Why Have a Wedding Hashtag?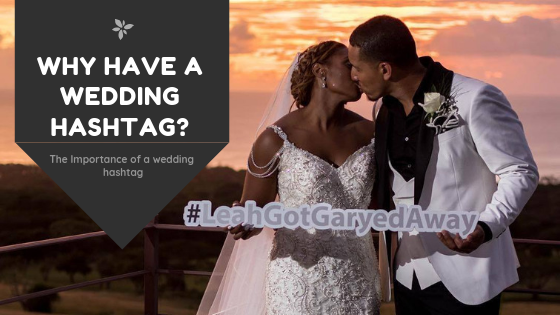 A bride's dream is to marry the love of their lives and make sure every moment of that special day is captured.
There are many ways to express and share the love of your union. However, it is nearly impossible to obtain every moment of that special day when one is caught in the moment. Guests are able to capture those moments you may not be able to. With the use of a personalized wedding hashtag, you and your guests can share these precious moments through social media without having to scavage for them. It also allows you to document your wedding through the use of an entertaining hashtag.
Having a community hashtag encourages guests to tag their posts with your hashtag so you and other guests can follow the event and easily find images or videos.
When coming up with your hashtag, be sure to have fun with it but also try to keep it simple enough for people to tag their pictures others to find easily.
A wedding with a hashtag gives everyone the opportunity to experience the wedding, making it even more special. A hashtag can describe the event and can be a great way to increase the outreach for those who couldn't make it. Many people want to be a part of that special day but often not everyone is able to experience that moment because of certain circumstances.
Hashtag Cutouts help add entertainment to your wedding day because everyone wants to capture every moment and pictures with props are always more fun.
While taking a picture, many want to use props that describe the event. It is seen as an honor by many to be able to witness and experience the being part of such event. Hashtag Cutouts helps express the joy that everyone is experiencing at the event. Also, Hashtag Cutouts provides a wide range of cut out props one can use to make the event even more special and entertaining for everyone at your next event.
A personalized wedding hashtag can be a play on the bride and groom's name, a fun saying, or a mixture of both! If you find yourself having a difficult time trying to come up with a wedding hashtag here are a few links to different hashtag generators specifically for weddings: