Decorating Your Ceremony Aisle with Printed Flowers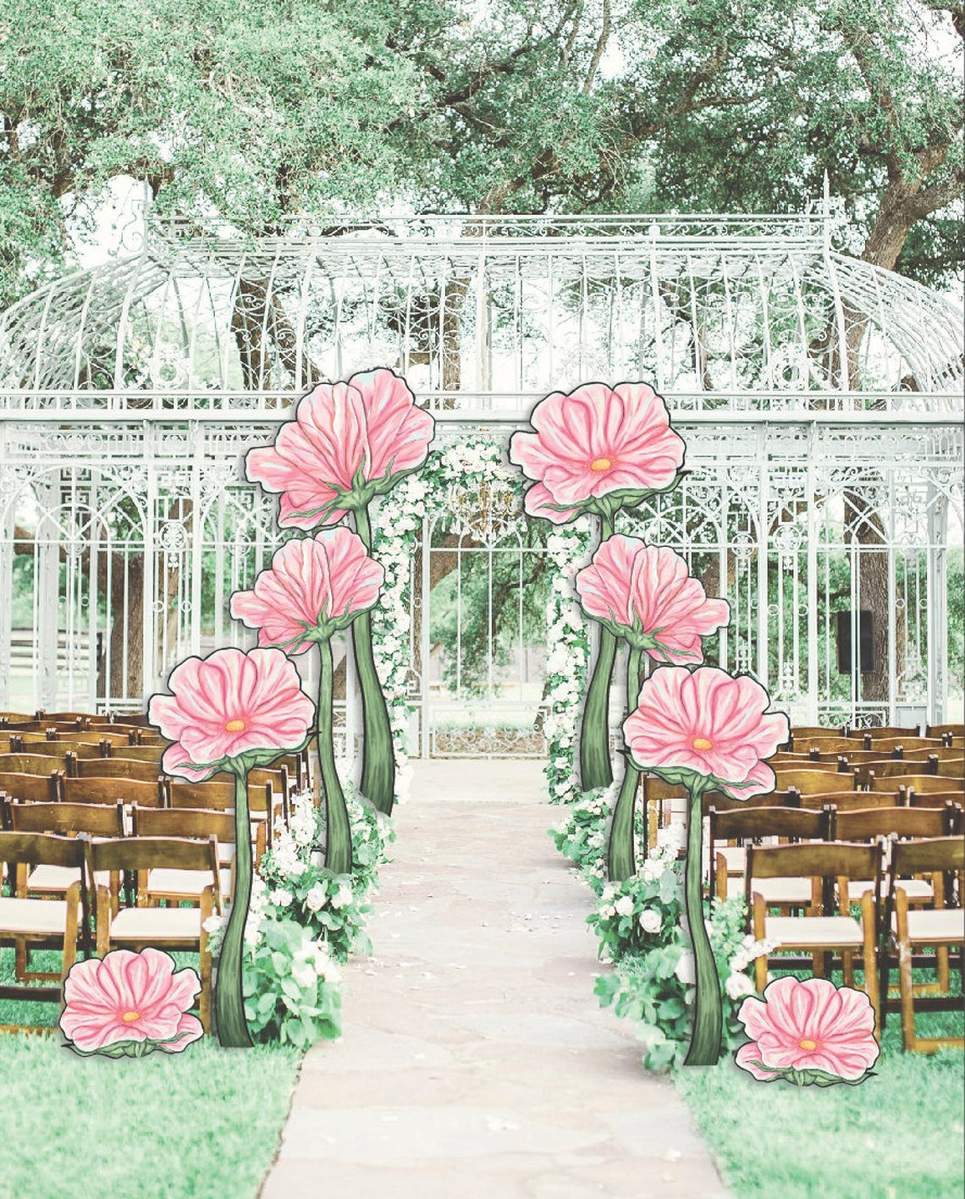 Your wedding day is almost here. You probably have been dreaming of this moment since you were a little girl. Celebrating one the biggest days of your life dictates perfection in every aspect of the ceremony that you will be planning.
Everything must be near perfect, from centerpieces to chandeliers. Flowers, though, are one of the vital parts of a wedding, especially when you walk down the aisle with your spouse.
Printed flowers have become a popular and affordable option for wedding ceremonies. You can customize them to fit your wedding theme and have them look photo perfect.
 Therefore, decorating your ceremony aisle with printed flowers is a must-have for all modern couples who want to liven up their big day without harming the environment or driving up their budget.
How Can You Decorate Your Ceremony Aisle with Printed Flowers?
Among the most memorable and filmed parts of your ceremony is your big entry down the aisle. The walk to the altar is the center of attention for your guests as they will watch you exchange vows with your significant other for the rest of your life.
Essentially, wedding aisle decoration is something you should consider. It doesn't have to be costly. In reality, simple arrangements using fresh flowers may create a stunning effect without breaking the bank. It's fine if it isn't in your means. Decorations with printed flowers will serve as the ideal choice for a budget or a luxurious wedding aisle.
Here are some fantastic and innovative ways to utilize printed flowers for your wedding decoration purposes for your big day.
Potted Plants and Printed Flowers
For a tropical island event, potted flowers are a requirement. Not only would the vivid colors pop against the light seats, but a few vast plantings at the start of the aisle will also make a statement. So, instead of sticking to traditional flowers, you can choose printed flowers and customize them per your requirements.
Among the best things about printed flowers is that you can easily customize these and print any design that complements your party's overall theme.
Pastel Printed Floral Arrangements
Pastel printed flower arrangements are always a good choice, particularly for a springtime outdoor ceremony. However, nothing will beat the beauty, shine, and customization capabilities of printed flowers. Chrysanthemums, penstemons, daisies, and dahlias in huge blocks will add a touch of romance to your momentous event.
If you want, you can also request a particular fragrance and such arrangements, and these will continue to revitalize the event throughout the day.
Printed Flowers Around Wood Walkways
Some spouses want to adorn their celebration venue with a cloth aisle carpet. However, this isn't the best or the most realistic choice for a range of wedding themes, such as a destination wedding.
You can choose a wood pathway instead of a sandy pathway if your wedding is on the beach. This will not only make walking down the aisle simpler, but it is also highly adjustable. To add a unique touch, have your initials imprinted on the edges and use printed floral arrangements to liven up the sides of this pathway.
Minimal Printed Floral Arrangements
Ours is the era of minimalism. Therefore, many couples opt for minimalistic designs with a well-balanced color scheme of different variants of white color. When it comes to aisle décor, some people believe that simpler options are the best.
Placing ceremonial centerpieces behind the last row of seats is a great idea. Even simple arrangements may completely change the aesthetic of your ceremonial location. You can further add a touch of panache and flair with printed floral arrangements that go well with luxurious and minimalistic designs.
Textured Pots with Printed Flowers
Patterned containers with printed floral arrangements will offer even more vibrancy to your ceremony aisle. You can fill these with plants if you like, but they'll also look beautiful on their own. Fresh fruit groupings, for example, can offer your aisle a distinctive aesthetic that will enhance your marriage event.
If you decide to go with textured pots with printed flowers, you can match the flowers with the pots and the overall theme of your ceremony. This will offer an amazing touch of excellence, elegance, and simplicity to the entire ceremony.
Printed Floral Pathway
You can make a clean route down your ceremony aisle with foliage garlands (such as rosemary or olive leaves) on both borders. With minimum effort, this simple accent can produce a powerful visual style.
If you want to stay away from traditional floral arrangements, getting printed flowers to liven up your aisle will be a great cost-effective option. What's even better is that you can choose designs and color schemes on your own to tie the entire theme together.
Colorful Printed Floral Arrangements
Among the most preferred and favorite ceremony aisle themes is the introduction of beautiful and colorful blossoms. A beautiful floral arrangement would quickly enliven your ceremony. You can draw ideas from this jaw-dropping aisle that's overflowing with brilliant colors and beautiful colorful blossoms if you're not afraid to try things with a robust color scheme.
You can even create floral prints of your favorite colors and create a stunning design for the ceremonial aisle. Some people like to combine various colors on their printed floral arrangements and tie them together into an eye-catching theme.
French Doorway with Printed Flowers
A door frame at the start of the walkway may also be used to greet your respected guests into your ceremony. They'll be awestruck when they see this spectacular piece of décor, and it'll make your presentation even more elegant.
You can further customize this door frame with printed flowers and arrangements to give it a personalized touch. Some people like to keep the door frame and the surrounding regions white.
It is entirely up to you to introduce as many colors as you want since you can easily customize printed floral designs.
What Is the Bottom Line Here?
As you approach the ceremony, all attention is on you. However, this doesn't imply you should go without ceremony aisle arrangements. Because the aisle is one of the primary elements that the visitors notice once they come to your ceremony, decorate it to reflect your themes and color schemes. Enchanting embellishments will make it feel much more unique because it is also a centerpiece of the event.
If you want to stay away from outdated and age-old designs and themes, you can invest your time and energy into printed floral arrangements. These cost less money, offer more eco-friendliness at your fingertips, and bring along a multitude of customization options at your disposal. You can print any design onto these flowers and bring your entire theme together into one.