Why a Full-Sized Graduation Cutout is the Best Graduation Gift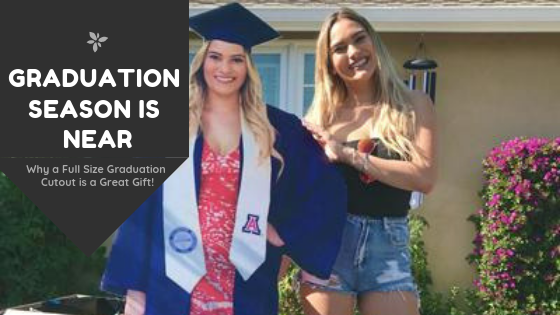 Graduation seasons come with lots of surprises. From pleasantries, awards to gifts, graduates are always expectant of something that could make their event a unique one. Regardless of their ages or grades, the successful completion of an academic program deserves celebration and praises. Surprising your loved ones with perfect and unique graduation gifts is a great way for you to celebrate this accomplishment. Of course, there are a series of gifts in the market today. However, gifting full sized graduation cutout can make your gift standout amidst others. Here's why full-sized graduation cutouts would be the best gift for your Graduate:
CAPPING OFF THE PROUD MOMENT
Presenting a full-sized graduation cutout is a fantastic way to show appreciation for the graduate's hard work. It creates a sense of belonging to them. They feel loved and respected for their hard work and relentless effort to make everyone proud. Presenting this kind of gift commemorate their effort and instills confidence in them. It's a present that can be referenced in the future. It also appreciates their celebration moment better. Gifting them this item will surely cap off their proud moment.
CREATE THE FUNNIEST GRADUATION PHOTOS
Create your full-sized graduation cutouts using a funny of silly graduation photo that no one would have expected. It amuses the graduate and will bring a smile to their face. It can be a hilarious gift everyone will appreciate. It creates memories that will last for a lifetime. Choosing full sized graduation cutout will surely make them smile more than you can ever imagine.
BUILD SELF-ESTEEM
There are higher chances that your favorite grad will start loving themselves more when they receive a full-sized graduation cutout gift. There is no better way to instill self-confidence and attract self-love than mirroring someone image. The more they see their approximate figure, the better they feel about themselves. They will see themselves as a hardworking and determined individual. You will be glad for taking such a decision to gift him/her such type of graduation gift.
IT'S DURABLE
The gift of classical full sized graduation cutout gift is one that'll last for years and help get your grad to reminiscence over the old days at schools. It creates a positive outlook for them and encourages them to work harder for success. It's a great way of reminding a grad about the awesome graduation moment. It will surely serve them for quite a long time.
Add some splashes of color to your grad celebration with full-sized graduation cutout gift. Whether they are young or old, an amazing gift like full-sized graduation cutout will let your grad understand that their achievement is something that should not go overlooked.