How to create a backdrop that is more interactive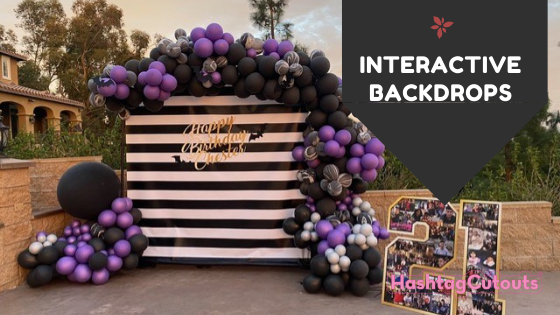 Photo Stations are no longer a fun novelty item they are an event mainstay. We at Hashtag Cutouts have looked past the traditional 2-D, packaged photobooth backdrop, opting instead for fully realized, immersive experiences that encourage visitors to pose between props and scenery. Here's how to create a backdrop that is more interactive:
Encourage Creativity!

People find a blank canvas hard to resist. Create a plain backdrop, place your logo or desired text in the center of the wall and allow others to express their creativity through paint, chalk or crayons.

Add Lights!

Neon signs are having a moment as they

symbolize modernity and innovation. Cool, chic and a crowd favorite, place one in the center of your backdrop to add a pop of color to your event or to say something fun your guests will truly never forget. 

Integrate the crowd!

Your guests will love reminiscing.

Create an oversized picture collage in the shape of a large number(s) and place it on the side of your backdrop. 

Show 'Em What You've Got!

If the cornerstone of your event is some kind of product, of course you want your guests to experience it firsthand. If it's makeup, for example, display it on your background in a sleek design. Not only will your guests love to take photos in front of the design, it will help inform your guests of your product. 

Make Souvenirs Special!

Much more personal than a generic piece of swag stashed in a gift bag, a unique item made on site -- such as a picture frame that mirrors the same design as your event background. It's more likely to stay out of the trash and spread awareness beyond the event. 
Need more examples? Check out our past work!
https://hashtagcutouts.com/collections/birthday/products/custom-number-photo-collage