Hashtag Cutouts Transforms Montclair Plaza into "Nightmare on Moreno Street"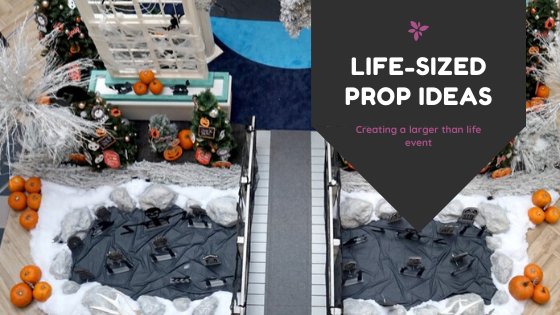 Decorations right in time for the Holidays
Hashtag Cutouts kills it again! This past week our team was kept busy working at Montclair Mall working on their spooky "Nightmare on Moreno Street" decor. Our talented, creative team put this project together by designing, printing, AND installing all the custom cutouts to make this spooky, one of a kind theme come to life. With the holidays coming around the corner, Hashtag Cutouts got festive in their theme by combining two popular holidays--Halloween and Christmas. Keep reading to see how Hashtag Cutouts transformed the Montclair Plaza for this very special holiday installation. 
We enjoy seeing the type of ideas people imagine and seeing them come to life using our custom hashtag cutouts, social media hashtag cutouts, and custom props. This holiday season you will see just that when you stop by Montclair Mall to go holiday shopping. 
Can you picture similar gorgeous pillars and setup for your wedding or engagement party? Well now you can! In fact, if you check out our blog post, "Why Have a Wedding Hashtag?" you'll see how the Hashtag Cutouts team made a bride's wedding more memorable with customized props for guests to admire and use while taking fun pictures with our specially designed hashtag cutouts. 
Aye, aye captain! We take your orders and ideas, and we create it for you. All of our props and cutouts are made out of durable material to make sure that your cutout props are standing for the duration of your event/party and beyond. Just check out this unique life-size pirate inspired reindeer cutout. 
Or these spooky, Halloween inspired custom cutouts. Having two themes interlink with each other as was done with this "Nightmare on Moreno Street" project, created a fun decorative twist that makes it one-of-a-kind.
In fact, when you place an order with us, you are free to pick the colors, shapes, fonts, words,etc. for your custom hashtag cutouts, props or life-size cutouts all to your liking for your events. This means you get to show off your originality at all your events. Each of Hashtag Cutouts' products are made from a durable material that can withstand constant handling so you can move your props to any place, including your christmas tree! Create yours by contacting the Hashtag Cutout's team here: https://hashtagcutouts.com/pages/custom-hashtag-orders
Alas! The "Nightmare on Moreno Street" project is complete and is on display for all Montclair Plaza guests to admire. Guests can enjoy looking at all of our custom Halloween themed cutouts designed as tree ornaments that range from cute ghosts to spooky pumpkin cutouts. 
We hope that you enjoy the holidays this year by incorporating fun props to your holiday parties! Happy Holidays!  
Are your creative juices flowing? 
What kind of creative ideas has this blog story inspired you? Let us know to help make that idea come to life. Tell us today and place your order at: https://hashtagcutouts.com/pages/custom-hashtag-orders
We enjoy creating fun, one of a kind social media hashtag cutouts, party decor, and custom cutouts to include for any type of event. We specialize in corporate events, personal party, or special event, Hashtag Cutouts is here to help make your party or event a special, memorable time.