Safari Themed Baby Showers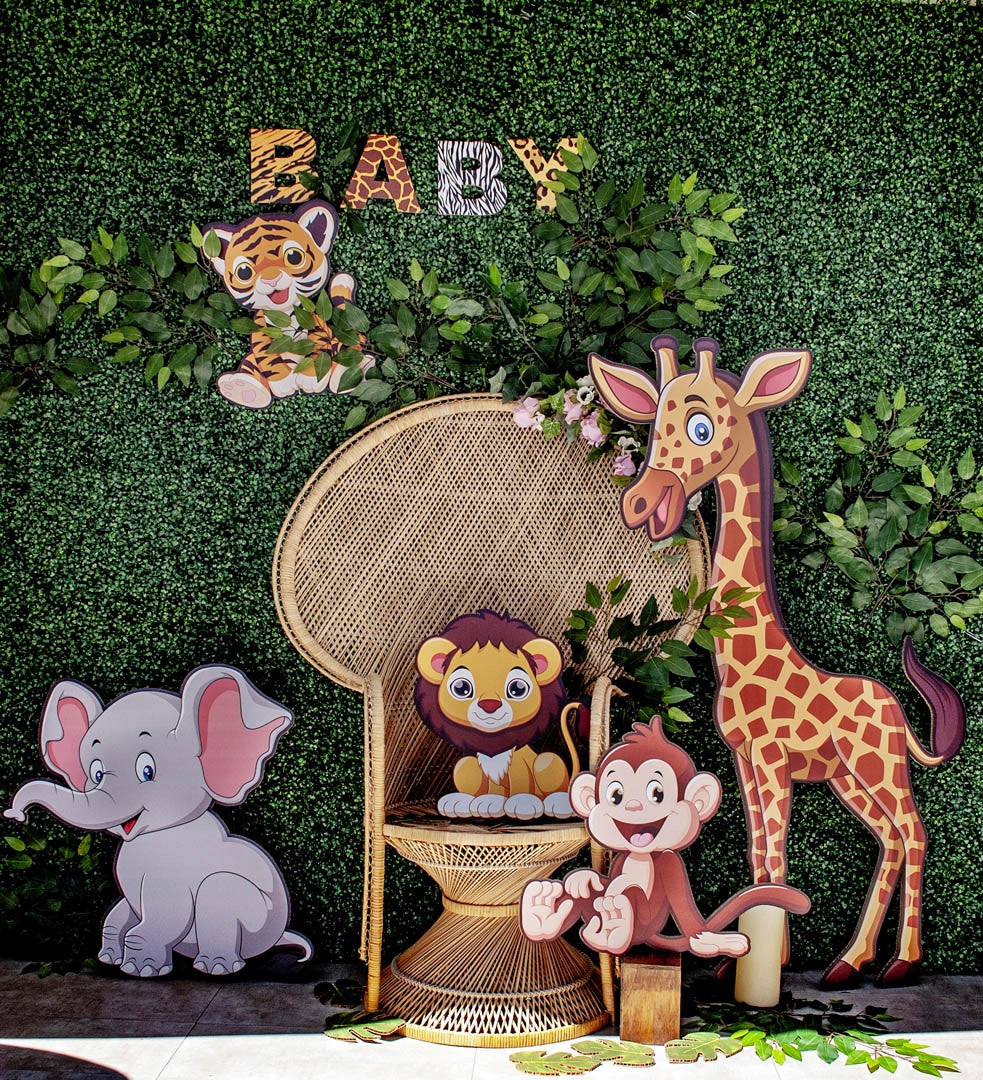 A Baby Shower Sure to STAND Out
Calling all parents-to-be: BABY SHOWERS ARE A HUGE DEAL! It's a heartfelt celebration of the arrival of your baby into the world. To celebrate the coming of your little one in the best way possible, with fun and family. Make this an unforgettable celebration by including hashtag cutouts, baby shower photo props, and stand-alone themed decorations.
It's your time to shine. Choose a baby shower theme that says goodbye to the typical baby showers you have gone to or seen like a Safari themed baby shower!
Why a Safari themed baby shower?
Maybe you are you holding off on knowing the gender of your baby? Maybe you are having twins? Maybe you want to go for a baby neutral baby shower? Or maybe you are just that awesome and know what you want, which in that case- you go, girl!
Baby showers don't have to be limited to only pink or blue. Safari themed baby showers create a fun, creative twist to your emotional, memorable festivity. Adding hashtag cutouts and social media props are a fun way for your loved ones to interact at your party and a great way to add some pizazz. They'll want to capture and share their memories online with the custom social media cutouts and props.
Add some fun and creativity with these gorgeous life-size cutouts and props. Place these animal cutouts to stand right next to each other or get creative and place them in different locations of your party.
Want to make a statement?
This life-size, large BABY cutout is a gorgeous way to make a statement. It's sure to strike your guests' attention and make your baby shower Instagram-worthy. Each letter features a customized animal print design/pattern of your choice.
Hashtag Cutouts also has a baby-sized cutout version that is perfect to use as a table centerpiece.
How to decorate:
Are you struggling to see how you can incorporate these cutouts into your party? Look at the images below for some baby shower decor inspiration.
Showcase all of your safari themed baby shower decor at the main table.
Place the large BABY letter cutouts in a place where everyone can see and wow your guests when they see the life-sized safari BABY cutouts. After all, this is YOUR special day and we're celebrating you and your baby's arrival.
Choose pre-made cute, adorable, gender-neutral, safari-themed animal props, or get customized baby shower props. Then display your favorite animal cutouts at your baby shower.
Who said the fun should stop here?
Don't limit yourself. Safari props aren't just meant for baby showers. These life-size props are also fun decorations for gender reveal parties, baby's 1st birthday, or kid-friendly and safari themed birthday parties.
Hashtag Cutouts can create customized cutouts that work great for any theme. We offer unique personalized cutouts and props as well as pre-made designs for safari themed baby showers, it's a boy/girl or baby shower party in a box. Have a question about sizes, delivery methods, and customized props? Send us a message at hashtagcutouts@gmail.com or send a request on our custom orders page https://hashtagcutouts.com/pages/custom-hashtag-orders