Planning a Business Event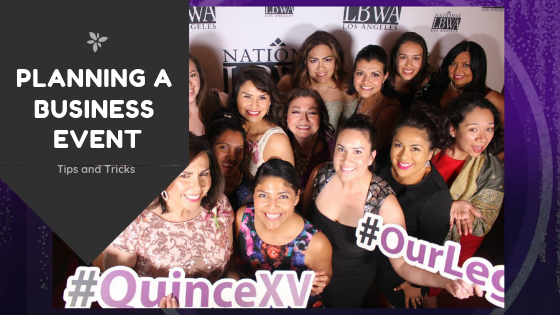 Knowing how to throw a great party is a valuable skill when starting an event planning business. It will help you to have an idea of what your customers will be looking for. It will also help you to offer ideas and tips to clients looking for valuable resources for their event.
Events Planning sounds like a glamorous job, as what a lot of people see is the finished product and what they know of the business as shown in the movies. But, there's a lot of hard work, time, and sometimes tears of frustration that are part and parcel of the whole package.
Is your entrepreneurial spirit kicking in? Do you want to engage yourself in the events planning industry? If you are, then this post is definitely for you.
How do you get started?
Research Your Market
You will need to do some research before taking the big plunge into business. Conducting your market research is an orderly way of learning about the people who will be buying from you. Essentially will need to uncover if there's demand for your service, how much and for what areas. Market research will virtually cost you nothing with access to the internet and a computer.
Know Your Target
You might think that being the 'jack of all trades' is a good idea when you are starting your events planning business. While it is essential to know a lot of things, it is also vital to have focus. You have to remember that there are different events. You must know which one would be your forte so you can do more research on that, making you stand out from the rest of the events planning companies.
Create A Good Business Plan
Sitting down and writing out your business and marketing plan even if it is only on a single sheet of paper to start with will help you to start your event planning business off on the right foot. Who will your clients be? What services will you offer? What will you charge for services rendered? How will you market it? Are some of the questions to keep in mind when starting your business.
Creating Portfolio
Now that you have clients, never forget to document your events. Always have your camera ready to take snapshots of even the littlest details. Create your social media accounts so you can have a broader reach. Have a media kit as well that can be easily distributed as flyers to extend your services to potential customers.
Hashtag cutouts can you help elevate your next event. With a customized hashtag sign, you can streamline your online marketing by raising brand awareness for your event.
You can create a branded hashtag campaign that features a hashtag with the name of the event, company, and the theme. Create a @ sign to tag your business' social media handles. Color coordinate each sign to match the theme of the event of your business' colors.
Create a custom cutout that features your business' logo and feature it on your business' website and social platforms to drum up excitement for your upcoming event. A custom hashtag sign and cutout are great for marketing before and after your event and will help keep you and your business in the public mind weeks after your event.
An event planning business is a big business and opportunity you can explore. With the right foot forward in starting the business, success is quite easy to achieve.