Custom Heroes Work Here Yard Signs for Hospitals and Businesses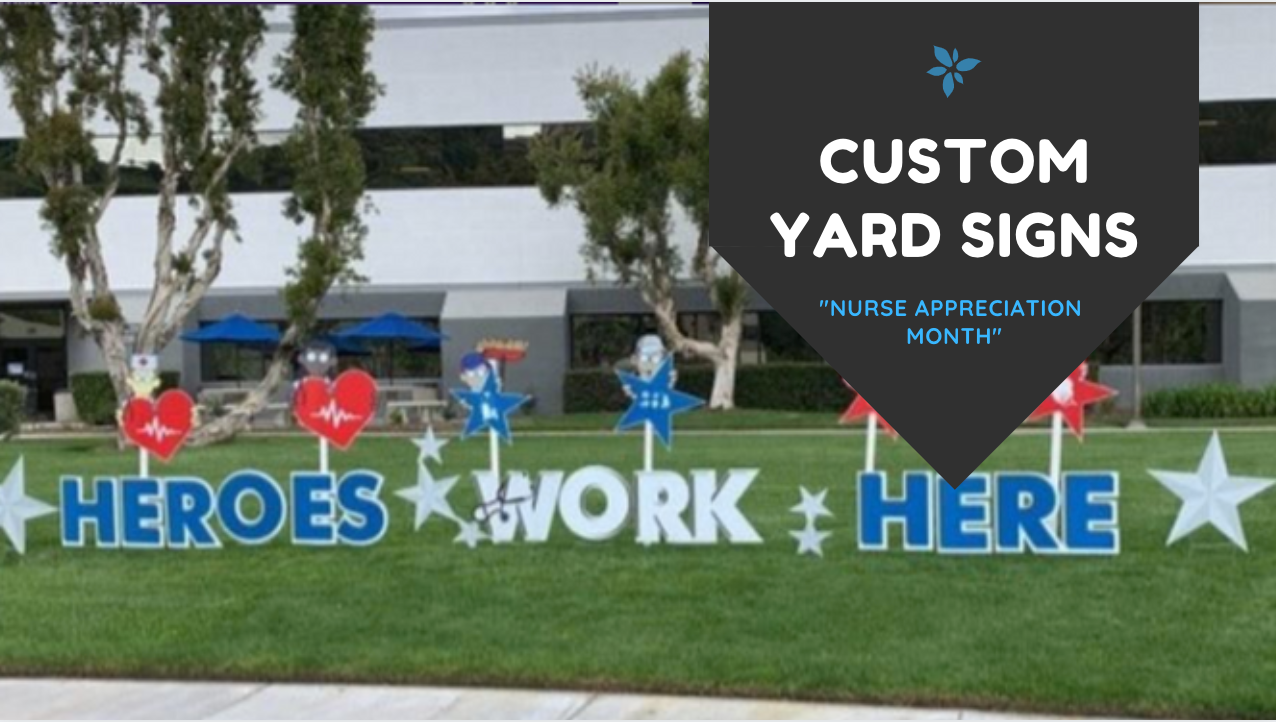 Nurse Appreciation Month:
Carmen Rad, the creator behind Hashtag Cutouts, recently designed and customized a yard sign for Kaiser Permanente Baldwin Park Medical Center. Her "Heroes Work Here" custom yard sign was widely popular and loved by hospital staff. The yard sign was made for other Southern California Kaiser Permanente hospitals that also put their yard signs up for display for patients and visitors to see upon arriving.
Heroes honoring Heroes:
Nurses, doctors, firefighters, law enforcement officers, and other front-line workers from Riverside, California gathered together outside hospitals to watch Ventura and Riverside County flyover at 2 pm. Flying over Moreno Valley's Kaiser Permanente Hospital, a crowd of cheering hospital workers were thankful for the appreciation. In front of the crowd, are the "Heroes Work Here" yard signs created by Hashtag Cutouts. Left-wing pilot, Major Trevor Aldridge, said in an interview with FOX 11, "There is a new front that we are fighting with this battle and it is pretty amazing to have the opportunity to say 'thank you' to the people fighting this new fight." 
Custom Yard Signs for Businesses
Recently, we had a client that wanted to specifically match her "Bloss Gloss" logo and colors. Fredi and Carmen worked together to create her design and ensure the presentation was as accurate as possible using Pantone. Her design included (2) Bloss Gloss yard signs as well as a happy birthday sign. Hashtag Cutouts was able to complete the entire design to print process and send her the final product within 5 days, just in time for her child's 15th birthday. 
Amongst the orders that are placed on Hashtagcutouts.com, the designs that are most popular include:
Graduation Signs

Birthday Yard Signs

Custom Hashtags for Events

And more!
Due to social distancing, families have looked for ways to celebrate special occasions such as drive-thru commemorations. Graduation ceremonies were unfortunately canceled due to safety precautions during COVID-19. Yard signs are perfect for letting others know that your family member just graduated! Yard signs and custom hashtag cutouts are created for any and every occasion and can be custom made, or you can choose from a design you liked that we've made before. These signs can be created for both personal uses and business branding.
Hashtag Cutouts, established in 2012, is the original hashtag company for your hashtag cutouts! We create large, custom hashtag signs to set up at events, weddings, photo booths, and more! Let your friends know what you're celebrating with custom hashtags and yard signs. The words and choice of colors are all up to you. We use Pantone to match any color, we can even do metallic! In order to ensure that you love the design, we send you proofs before we print the sign. That way, we make all the necessary edits and send you a sign you're bound to love.
Featured Review:
"Had a particular client that requested exact color matching and even their font to be used. The owner reached out to me directly and never faulted as we went back and forth a few times on the approval of the mockups until it was just right! The end product arrived on time, looked amazing, and was very sturdy! We will definitely use again!!" - Rachel