Celebrating Women Who Kick Glass!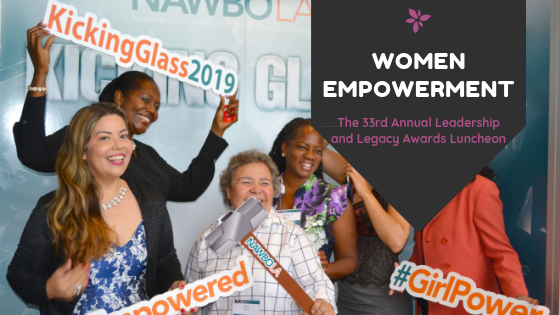 The National Association of Women Business Owners – Los Angeles (NAWBO-LA) hosted LA's event of the year, The 33rd Annual Leadership and Legacy Awards Luncheon & 1/2 Day Conference! This year's theme was "Kicking Glass!"
This inspirational day celebrated accomplished women business owners who have "kicked glass" in LA. 
Why Kicking Glass? Kicking Glass refers to the Glass Ceiling and Breaking Through it. The Glass Ceiling is a metaphor for an invisible barrier that prevents some from rising to higher levels of success. This barrier is often experienced every day by women and minorities in business and life. Today, women earn 80 cents for every dollar earned by a man. Breaking the Glass Ceiling is overcoming these invisible barriers.
The NAWBO-LA is a nonprofit organization with the mission to propel women entrepreneurs into economic, social, and political spheres. Founded in 2000, this foundation is dedicated to accelerating initiatives and research that promote the entrepreneurship of women worldwide. The National Association of Women Business Owners – Los Angeles supports 700,000 women business owners.
The 33rd Annual Leadership and Legacy Awards Luncheon celebrates the women who have kicked glass and continue to do so in business and life. The event celebrated connections and brought 500 of top successful women business owners and leaders together. These top business leaders continue to empower themselves and their peers to break down barriers and be successful. Women who support women to succeed is how we will kick glass!
Hashtag Cutouts provided the event with custom hashtag photo props and other custom cutout photo props that aligned Kicking Glass!
The custom cutouts featured the event's official hashtag, KickingGlass2019, along with other tags that complimented the event and the foundation such as #GirlPower and #Empowered in the foundation's colors. Some of the other photo props provided by Hashtag Cutouts was a hammer with NAWBOLA on the hammer's handle, a pink boxing glove with FIGHT LIKE A GIRL on the front of the glove, and other props with saying like Lady Boss, and Stronger Together stamped on them.
Each prop held a special message with symbolic imagery that pushes for women equality and empowerment in business leadership roles. Even the phrase fight like a girl has been reclaimed and repurposed to show that being a woman should not be considered a detrimental factor but rather one empowering. Being a successful woman is something that should always be celebrated and the Kicking Glass event did just that!